Welcome

On behalf of the Ohio Prosecuting Attorneys Association let me welcome you to our web page.  It is my hope the information contained within will help you better understand the role of Ohio's county prosecutors. An Ohio county prosecutor has a variety of roles and responsibilities other than as the chief criminal prosecutor within each county.   As legal counsel to a variety of County elected officials, offices and agencies your county prosecutor assists in ensuring efficient and responsible county government.  A Prosecutor's primary role is to assist in promoting the safety and protection of individuals, families and our communities.  Administering justice for victims of crime and the citizens of our State is one responsibility in carrying out this role.  The position of county prosecutor also encompasses the obligation that all parties to the prosecution receive a fair trial based upon the laws and procedures in place at that time. Please take your time and look around.  Hopefully you will find information here that is educational, informative and relevant about your county prosecutor.
Regards,
John D. Ferrero
Stark County Prosecutor
2015 OPAA President

Ohio's Judicial System: What you should know.
Upcoming Events:
Executive and Legislative Committee Meetings
May 21, 2015
Westfield Insurance Blair Center Parlor A and B
Legislative 10:00, Exec 11:00, lunch 12:00, golf 1:30 South course.
Summer Workshop
June 26 & 27, 2015
Breakers Hotel Cedar Point

Fall Training
September 24th and 25th, 2015
Cleveland Wyndham at Playhouse Square
Annual Meeting
December 3rd and 4th, 2015
Hilton Columbus Downtown
Visit the Events page for full schedule of upcoming OPAA activities.
OPAA Member Profile:
Bradford Bailey
Hardin County Prosecutor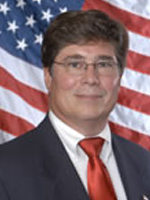 Prosecutor Bailey is proud to serve the Hardin County Community and is thankful for the opportunity to serve a third elected term. Mr. Bailey was born in Kenton, Ohio. He graduated from Kenton Senior High School and then went on to attend The Ohio State University. After college, Mr. Bailey came home to Hardin County to attend law school at Ohio Northern University. He graduated from ONU in 1978 and has been practicing law since 1979. From 1979 to 1989 Mr. Bailey served as an assistant prosecutor and assistant city law director. Mr. Bailey also served as the attorney for the Child Support Enforcement Agency and the now defunct County Court from 1979 to 1983. Until Mr. Bailey was elected to office in late 2004, he had engaged for 25 years in a successful private practice that gave him experience in a number of areas, including civil law, domestic relations and criminal defense work. During this time, he was also the solicitor for multiple villages throughout Hardin County.
Recently, under Mr. Bailey's leadership, the Hardin County Prosecutor's Office started its first Adult Felony Diversion Program.  Mr. Bailey's office is also involved in the Hardin County Common Pleas Court Recovery Court, which is part of the State of Ohio ATPP Pilot Program.  A core principle of Mr. Bailey's approach to prosecution is insuring that law enforcement has the best resources and training available to them.  As such, he has encouraged and financed specialized training for numerous officers.  Mr. Bailey has recently sent his own office investigator to be trained and certified as a polygraph examiner. 
Mr. Bailey is active in many Hardin County organizations and activities. He is proud to serve the community as its elected Prosecuting Attorney and seeks to improve the quality of life in our county.