OPAA Member Profile:
James K. Stanley
Meigs County Prosecutor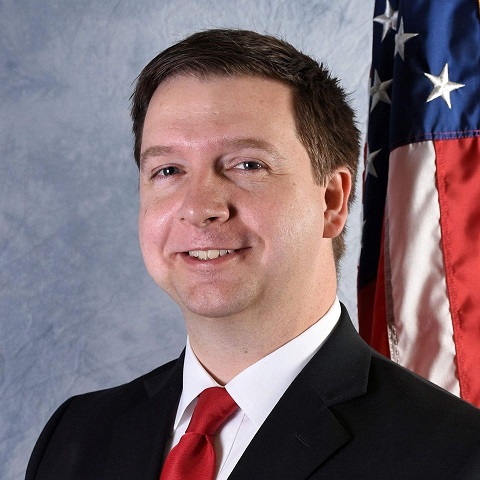 James Stanley first took office as Prosecuting Attorney in January 2017.  Prior to that, James served as an Athens City Prosecutor for nine years."Meigs is a small county, and our staff is likewise small, so that means I practice in all three local courts as well as the court of appeals," James said.  "That makes every day different for me and anything but dull."
James plays an active role in combatting the drug addiction crisis, and he serves as a member of the Meigs County Community Prevention Coalition.  James hosted the Meigs County Recovery Services Townhall Meeting, helped sponsor and organize the 2018 and 2019 Drug Prevention Day at the Meigs County Fair, led local opposition to State Issue 1, and regularly speaks with youth and parents of addicts regarding both prevention and recovery options.
Stanley is a strong advocate for victim rights, hosts an annual National Crime Victim Rights Week ceremony, and regularly promotes victim rights and victim services awareness.  In 2018, Stanley and the Meigs County Victim Assistance Program founded Meigs County Partners for Justice, which is a victim of crime collaboration board.  In 2019, James received the Ohio Crime Victim Justice Center Prosecutorial Leadership Model of Justice Award for his dedicated service to victims and the preservation of their rights.
Also in 2019, James received both the Ohio State Bar Foundation's District 17 and the state-wide Community Service Award for Attorney's 40 and Under.  Stanley was recognized for his continued service to the preservation of Meigs County history as well as his ongoing efforts at combating the drug addiction crisis. James serves as President of the Meigs County Historical Society, as a board member of the Meigs County Bicentennial Commission, as a member of the Meigs County School Safety Council, and as a board member of the Karr-Aanestad K-9 Foundation.
"Being Meigs County Prosecuting Attorney is my dream job," James said.  "I truly feel as if the work I do every day makes a difference in someone's life, whether that be a crime victim or someone struggling with addiction or any number of people.  I love serving my community in this way."
James received his bachelor's degree in political science from Ohio University and his juris doctor from The University of Akron, School of Law.  James is a member of the Meigs County Bar Association, the Ohio State Bar Association, the Ohio Prosecuting Attorneys Association, and the National District Attorneys Association.  James is also a member of the Ohio State Bar Association's Council of Delegates.  James lives near Albany with his daughter, Kinnedy.