OPAA Member Outreach:
Michael Gmoser
Butler County Prosecutor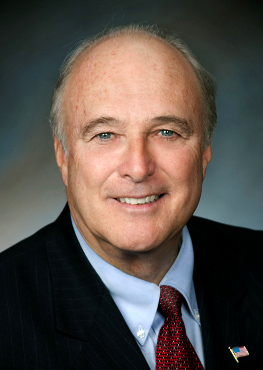 In February 2011, Michael T. Gmoser was appointed to fill an interim term as Butler County Prosecutor, elected in November 2012 and subsequent terms up and through his current term in 2021. Soon after his appointment, Prosecutor Gmoser identified and focused his attention initially on three specific areas within the Criminal Division in Butler County:
• Elderly victims of crime.
• Adult and child victims of physical and sexual assault.
• A fully implemented misdemeanor diversion program throughout the Butler County Area Courts.

In September 2011, Gmoser implemented the Butler County Crimes Against the Elderly Task Force focusing on: financial scams and exploitation, contractor fraud as well as physical abuse and neglect by caretakers and family members. The task force consists of members from law enforcement, the business community and elderly services organizations who work together with the dedicated assistant prosecutor assigned to all cases involving the elderly, to identify exploitation and abuse to the seniors of Butler County. In addition, the task force offers:
• a hotline for seniors to report any type of abuse, scam or financial exploitation. A record of every call is documented and tracked yearly.
• a community outreach director to follow-up with every citizen report.
• quarterly newsletters warning seniors about the latest scams-distributed through the Meals-On-Wheels program. (Butler County Crimes Against the Elderly Task Force Breaking News newsletter is included)
• educational material such as A Layman's Guide to Scams and Frauds, written by Gmoser, and brochures given out at Gmoser's speaking engagements and the Butler County Fair. (Copies of the book and brochure included)
• a victim advocate and assistant prosecutor for all elderly felony cases.
• up-to-date subject-specific training seminars of law enforcement as well as senior service providers. (See copy of Butler County Crimes Against the Elderly Task Force…Reporting!)
• regular community educational opportunities for assisted care facility members, local organizations and boards.
With a Child Assault Task Force in place, now staffed with two assistant prosecutors, Prosecutor Gmoser expanded and enhanced the program with an Adult Sexual Assault/Domestic Violence Task Force together with the successful formulation of a Sexual Assault Response Team (SART). Regular meetings, updated training and roundtable presentation of potential cases has resulted in state of the art investigations of initial complaints to in-depth investigations prior to grand jury presentation. The program champions its connection with Women Helping Women and the cooperation/coordination of the agency in supporting crime victims.
Prosecutor Gmoser expanded and implemented an across the board Diversion Program throughout the County's three area court jurisdictions. The success of misdemeanor diversion has vastly increased options as well as opportunities for qualified misdemeanor offenders with the goal of ending those prosecuted from further contact with the criminal justice system.
Lastly, Prosecutor Gmoser recognized the benefit to police morale to have an annual award for outstanding police work and he adopted and credits a similar program created by Prosecutor Walsh of Summit County called the Annual Meritorious Service Award. A copy of the award and photo of the plaque are included.
Throughout his ten years in office, Gmoser continues to focus model, forward-think programs in areas of criminal prosecution requiring specialization and multiagency coordination.