Welcome!

On behalf of the Ohio Prosecuting Attorneys Association let me welcome you to our website.  Here you will find information about the role of prosecuting attorneys and our Association.

The prosecutor's role in the criminal justice system is often misunderstood.  Ohio's 88 elected county prosecutors are committed to justice.  The prosecutors I know aren't motivated by "winning" or trying to send everyone to prison for as long as possible. They are motivated by their responsibility to enforce the law, to make their communities safe and to fairly administer justice. And fairness and justice is what matters most of all.  Prosecutors live this every day.

Part of our role is to have a voice in public policy debates affecting the criminal justice system. To that end, Ohio's prosecutors serve an important function reviewing and advocating for legislation with one goal in mind – the safety and security of our communities.

Ohio's prosecutors are active in community and civic affairs.  From speaking to school children about the dangers of drugs to serving on numerous committees and commissions, Ohio's elected prosecutors and their assistants serve in vital roles.

As legal counsel to a variety of County elected officials, offices and agencies your county prosecutor assists in ensuring efficient and responsible county government. 

I'm proud to be a prosecutor and honored to serve as President of the Ohio Prosecuting Attorneys Association.  Please take your time and look around.  Hopefully you will find information here that is educational and informative about your county prosecutor. 

Daniel R. Lutz
Wayne County Prosecutor
2021 OPAA President

Ohio's Judicial System: What you should know.
Upcoming Events:

Self Defense and Stand Your Ground webinar
May 20th, 12:00 - 1:00
Executive and Legislative Committee Meetings
May 27th
Legislative 10:30, lunch 12:00, Executive 1:00
Athletic Club of Columbus

Summer Workshop
June 25th and 26th
Breakers Cedar Point
Fall Training
September 23 and 24
Crowne Plaza Cleveland at Playhouse Square
Juvenile Prosecutor Training
October 14
Sheraton Columbus Hotel at Capitol Square
Annual Meeting
December 16 and 17
Hilton Columbus at Easton
OPAA Member Profile:
Jordan Croucher
Noble County Prosecutor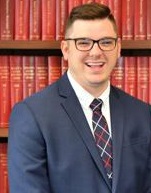 Prosecutor Croucher is a lifelong resident of Noble County. He grew up in Caldwell, Ohio where he attended Caldwell High School. After graduating valedictorian of his class, Jordan attended the University of Akron. He graduated cum laude, with a Bachelor of Science in Biology and a certification in Manual Communication (American Sign Language). From there, he attended the Ohio State University, Moritz College of Law where he obtained his JD. During the summers in law school, he interned in the Noble County Prosecutor's Office.

Upon completing law school and passing the bar, Attorney Croucher returned to Noble County and began a legal career at Yoss Law Office. While there, he engaged in a general practice, providing legal counsel to clients on a range of matters from real estate and oil and gas, family law, and criminal defense.
In the fall of 2019, Attorney Croucher filed his petition seeking the open office of the Prosecuting Attorney for Noble County, running against one additional primary challenger. He went on to win the contested primary and was unopposed for the November General Election.

Since taking office, Attorney Croucher has hired Tracy Clark as the new law clerk. Ms. Clark brings twenty years of experience working for Judge Eric Costine and the Costine law firm as a licensed paralegal. Attorney Croucher is also assisted with the invaluable help of Assistant Prosecuting Attorney Jamie Riley-Pointer who has handled all county misdemeanor cases for the last twelve years, Office Manager Melissa King who brings seven years of legal experience and who founded the Noble County Chapter of CASA, and Victim's Advocate Camra Long who previously interned in the Noble County Prosecutor's Office and who will also be a licensed paralegal upon graduation.

Jordan lives in Caldwell with his wife, Kristi, and their son Myles. He also enjoys helping as the assistant cross-country coach for Caldwell High School.