Welcome!

On behalf of the Ohio Prosecuting Attorneys Association let me welcome you to our website.  Here you will find information about the role of prosecuting attorneys and our Association.

The prosecutor's role in the criminal justice system is often misunderstood.  Ohio's 88 elected county prosecutors are committed to justice.  The prosecutors I know aren't motivated by "winning" or trying to send everyone to prison for as long as possible. They are motivated by their responsibility to enforce the law, to make their communities safe and to fairly administer justice. And fairness and justice is what matters most of all.  Prosecutors live this every day.

Part of our role is to have a voice in public policy debates affecting the criminal justice system. To that end, Ohio's prosecutors serve an important function reviewing and advocating for legislation with one goal in mind – the safety and security of our communities.

Ohio's prosecutors are active in community and civic affairs.  From speaking to school children about the dangers of drugs to serving on numerous committees and commissions, Ohio's elected prosecutors and their assistants serve in vital roles.

As legal counsel to a variety of County elected officials, offices and agencies your county prosecutor assists in ensuring efficient and responsible county government. 

I'm proud to be a prosecutor and honored to serve as President of the Ohio Prosecuting Attorneys Association.  Please take your time and look around.  Hopefully you will find information here that is educational and informative about your county prosecutor. 

Jane Hanlin
Jefferson County Prosecutor
2023 OPAA President

Amicus Committee Guidelines
Ohio's Judicial System: What you should know.
Upcoming Events:
Spring Training - April 20th and 21st, Sheraton at Capitol Square, Columbus

Summer Workshop - June 23rd and 24th, Breakers Hotel, Cedar Point

Fall Training - September TBD

Juvenile Prosecutor Training - October TBD

Annual Meeting - December 14th and 15th, Hilton Columbus at Easton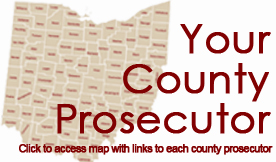 National Stalking Awareness Month


January is the 19th Annual National Stalking Awareness Month. Stalkers pose a threat to their victims and to the community. Stalking is a risk factor for future gun violence and future violence, in general. Stalking is a pattern of behavior directed at a specific person that would cause a reasonable person to fear for the person's safety of safety of others; or suffer substantial emotional distress. Very often, it is used as a tactic of domestic violence abusers, specifically during separation.
Examples:
Persistent, unwanted contact toward a victim through phone calls, texts, or social media;
Sending a victim unwelcome gifts or items;
Showing up repeatedly at a victim's home, school, or workplace;
Using technology to monitor a victim; and
Threatening or harming a victim or their loved ones, pets, or property.
Stalking increases the risk of intimate partner homicide by three times. One study of female murder victims in 10 U.S. cities found that 76 percent of women who were murdered and 85 percent of women who survived a murder attempt by a current or former partner experienced stalking in the year preceding the murder or murder attempt. (Stalking and Intimate Partner Femicide, McFarlane, et al)
What can you do?
Remember that stalking is not something that victims always understand or know how to identify

Be aware of common stalking behaviors

Realize that victims may maintain contact with their abuser to keep themselves safe (they know what to expect and that might be part of their safety plan)

Use a trauma-informed approach with victims/survivors. (These crimes create serious/long-lasting emotional/psychological harm)

These behaviors often wear victims down and make them feel scared and hopeless

Build trust with the victim and maintain contact

Provide information to victims about how to best document/log the offending behaviors

Make sure the victim has a safety plan in place. See Safety-Strategies.pdf (stalkingawareness.org) and https://www.womenslaw.org/about-abuse/safety-tips/safety-tips-stalking-victims
https://www.techsafety.org/documentationtips
https://www.youtube.com/watch?v=vfaYUuFQWuU (short 2-minute video about the importance of context in stalking cases)
A Guide for Advocates
https://www.stalkingawareness.org/wp-content/uploads/2018/11/Advocate-Guide.pdf
Our thanks to the Summit County Prosecutors office and Crystal Baker, MA, RASS, Director, Victim Services, for this information.